Pajalle.com turns 17 years old today. Many projects are even older than that (started since mid 90's) but this URL was reserved 23.2.2004.
Like we told in our previous post, fall and winter have mainly been about EVs. In addition to the BMW i3 crash repair we've also been working with another interesting EV since September '20.
Tesla Model S Long Range 2020
We had just purchased a 2016 Tesla Model S P90Dfor parts, when almost a brand new salvage Long Range Model S showed up for sale at insurance company's website. Obviously this car was a facelift model unlike our parts car but we thought we could still use many parts and decided to purchase this car.
The car had been driven to a ditch and pretty much everything from the front was broken. The accident had actually happened pretty close to us (~50km), but it had been transported to Helsinki area for inspection.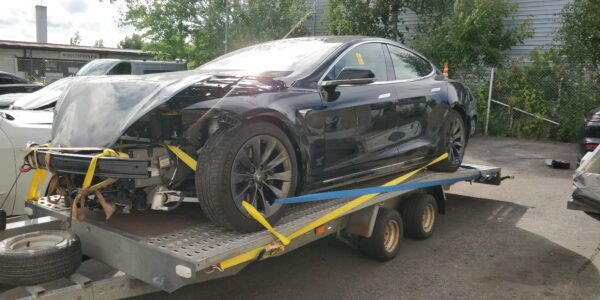 The project was done in co-operation with Kolarikorjaus P. Gullans and Autokierrätys L&G. Heikki had been working at Auto-LG on a project related to EV recycling and also simultaneously repairing this car and i3 of a previous post.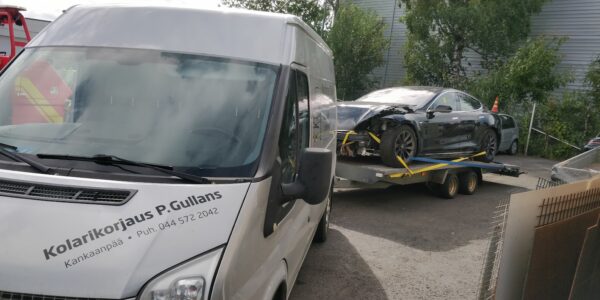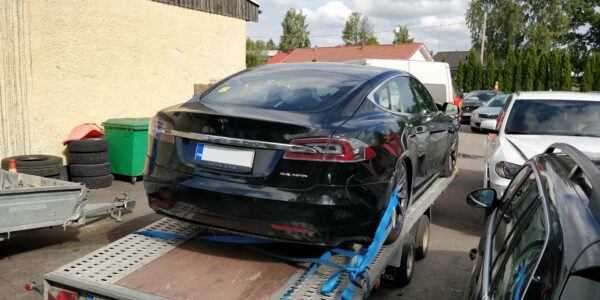 Right side of the car did it a bit problematic, rear right corner airbag was empty and front right lower suspension arm was broken.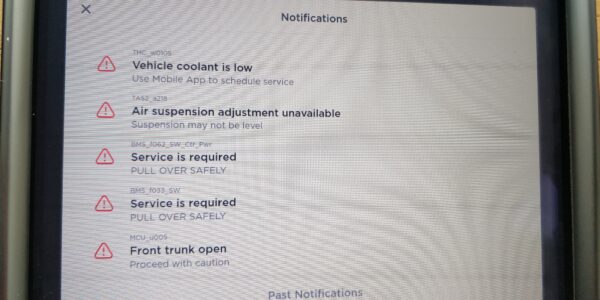 After connecting the 12-volt positive battery lead we got enough power to make the door handles and locks work and check the MCU for alerts.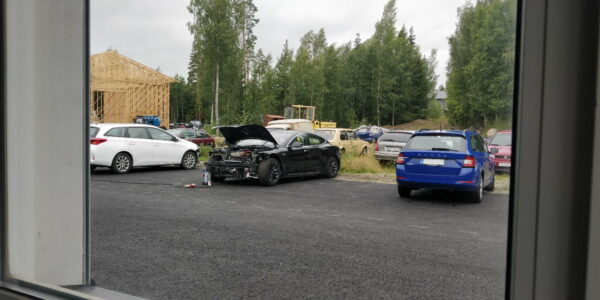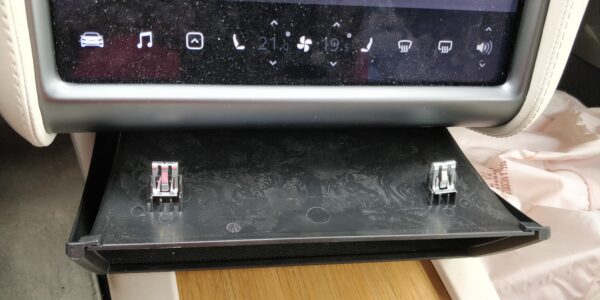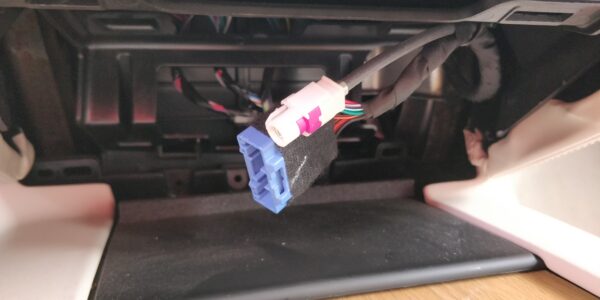 Since Tesla was a new brand for us there was a lot of new things to learn. There weren't any aftermarket diagnostic software for alert codes easily available, but at least we were able to read values from OBD with Scan My Tesla. This way we were able to check that the high voltage battery was in good condition. It had been stored at about 50% SOC and since it had been disconnected after crash it had maintained it's state of charge.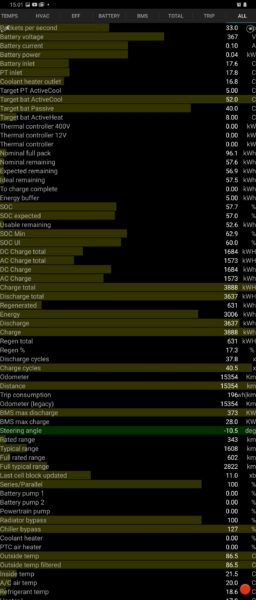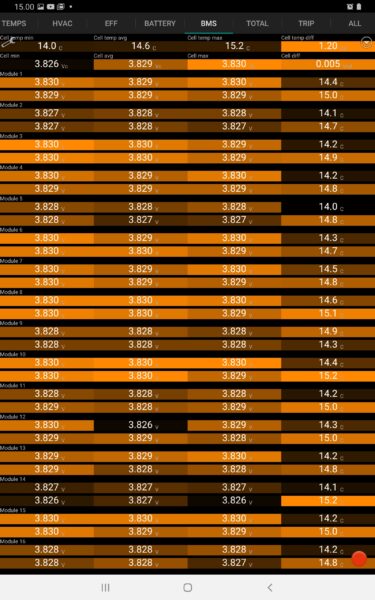 Next we lifted the care up and started to look at the damage more closely. At this this point we did not know how to make care run at it's own power we moved it around by pushing it manually.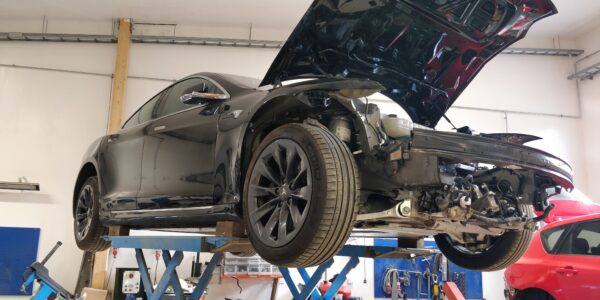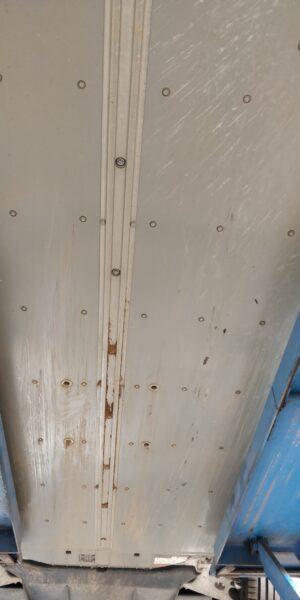 The most expensive part of the car was obviously checked first. From underneath everything was fine. Just minor scratches and dirt while the car had been running at bank of the ditch. The battery housing is made of strong and relatively thick aluminum alloy.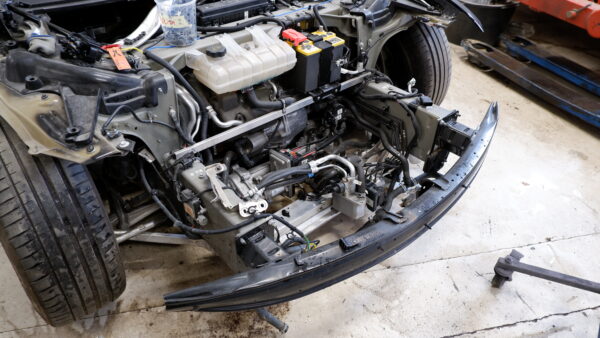 At the front pretty much everything needs to be replaced. While the insurance company had been making their repair estimate they had dismantled a lot so it was relatively easy for us to remove the remaining broken parts. On the other hand it made the repair more difficult for us. We had never dismantled a Tesla and did not know what parts there actually should be.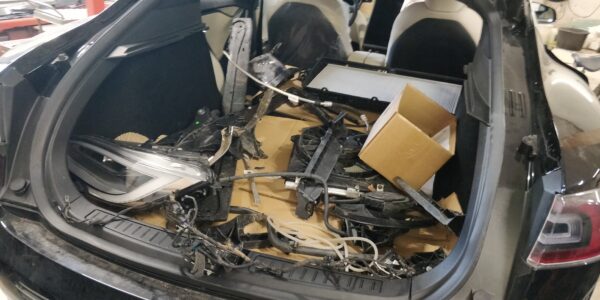 The trunk was loaded with broken parts so at least there were some to look for parts numbers. What also made easier was the parts car we had purchased (even though it was pre-a facelift). Also a big help was Tesla's free online parts catalogue. Drawing by drawing we generated a long list of parts to purchase from Tesla. It took a lot of time but in the end we succeeded pretty well, not many parts had to be ordered later.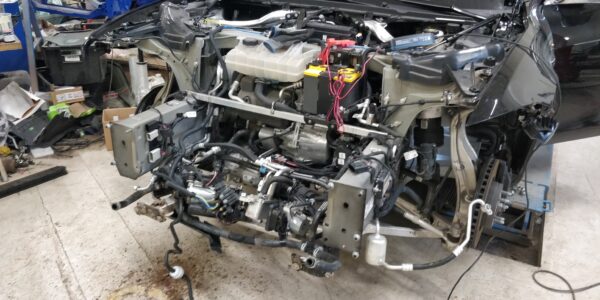 Here's a view of the front were you can see for example broken brackets of air suspension compressor. The chassis legs were straight, which was a big relief also. Since they are made of aluminum you can't just pull them straight. If they had been bent they'd need to be replaced. We had spare parts from the parts car available but now we did not need to do that.
We had to charge 12v battery constantly since at this point we had not connected the HV battery yet (didn't know how to do it).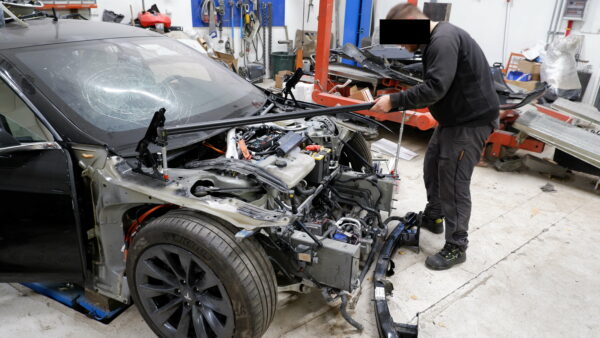 In the image above you can see the windscreen broken by the deployed passenger airbag. New windscreen was not too expensive.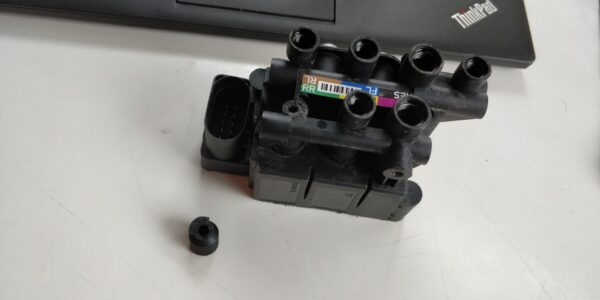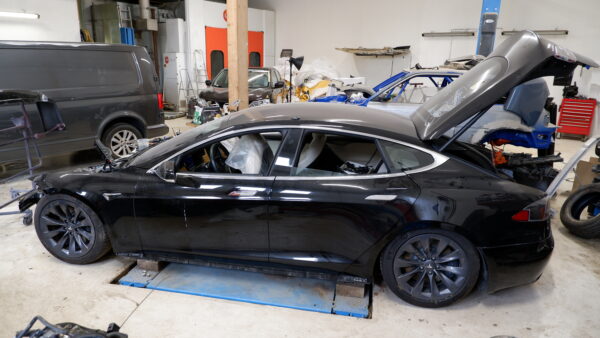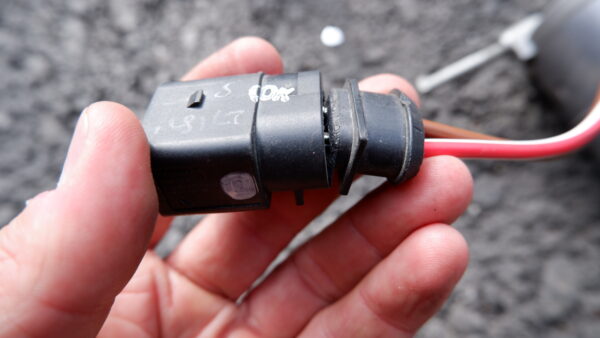 This opening post of this project is nice to finish with a photo of a connector housing of the air suspension compressor. The part is found from VW with a part number 1J0 973 852.
More to follow in the coming weeks.